Sure do! Semi-Inground pools have moved from the being the new kid to being in the popular crowd in the world of swimming pools!
Check out our Semi-Inground Pool options here!
Many people might have a high water table, rock, a hillside, or any number of uncontrollable factors which restrict them from having a fully inground pool. In situations like those or even in situations when a customer prefers the ease of installation of an above ground pool or the aesthetics of a wood deck, the semi-inground pool is the obvious choice.
Only some types of above ground pools can be installed semi-inground.
The pool must have a non-corroding, non-rusting construction and frame, yet, still be sturdier than a typical above ground pool to withstand the inward pressure from the dirt or backfill against the wall of the pool.
Aluminum above ground pools are typically a very popular option as this material offers a rust-proof option, and when coated with resin or other protective coatings, is also quite resistant to corrosion.
There are some steel wall above ground pools that can withstand being installed semi-inground as well. The important thing to look for on steel wall semi-inground pools are; resin top and bottom rails, resin uprights, and quality protective coatings on the wall and any other steel components. These are very important features for a semi-inground pool, as these components can come in direct contact with the soil and must be able to withstand any acidity in it.
Check out our Semi-Inground Pool options here!
Learn even more! Here are our most commonly asked questions when buying an Above Ground or Semi-Inground Swimming Pool.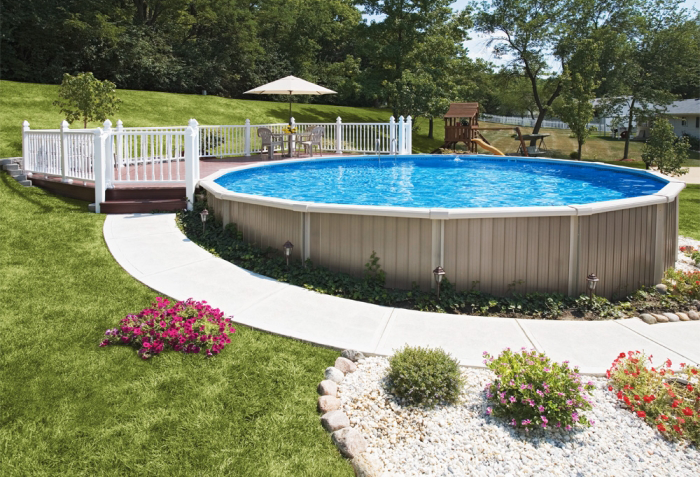 Didn't find the answer you were looking for? You can always contact us at support@royalswimmingpools.com or choose the category below to see our most frequently asked questions for that topic: