There are a couple ways to install coping on your pool, mostly depending on the type of coping you have; Bullnose, Cantilever, or Cantilever with Foam Forms. Details below!
Tools Required:
Drill
5/16" hex head bit
Hacksaw or Miter Saw
Trowel/Shovel
Start by installing all pre-bent and corner coping sections with the self-tapping screws provided. Screws should be driven at 1 ft. intervals; a drill with a 5/16" hex head bit works best for driving these screws through the coping and into the pool panel.
Bullnose Coping: Once the corners are secured, screw the long lengths of coping in place and make sure the liner receptacle on the lower edge of the coping is flush with the top inside edge of the pool walls. Included with the coping are 2" wide coping clips to use to cover coping joints. These clips must be placed before the concrete deck is poured.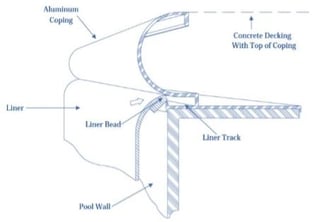 The image to the left shows rounded bullnose coping. Flat-face bullnose coping comes in two styles. For flexible flat-faced coping, notice that these pieces are straight even for your corners as these bend to fit the desired radius of your pools form. These will also come with tethers which should be placed where the joints connect in order to stabilize the coping, however, they can be place anywhere needing additional stabilization.
Cantilever Coping/Flat Track Bead Receiver: If using cantilever/flat track coping use the notched pieces (pre-bent pieces) to bend around the radius or radius corner. The screws should be fastened every 12". It is important to have the track flush with each added piece of coping added, as the track is what will hold your liner in place. After you secure the corners, screw the long lengths of coping in place in the same manner.
Cantilever Coping with Foam Forms: Due to the fragile nature of foam forms, we send extra pieces with your order. Trimming the edges of each piece may be required. Once all other steps are complete and you are ready to prepare the bottom of your pool, (without your liner installed yet), peel the paper from the double-faced tape and stick the form to the panel with the form bead and plastic clips filling the liner opening. This form bead keeps the liner clean during the pour. The plastic clips snap into the track locking the form in place every six inches. When attaching the form to the panel, make sure to use the palm of your hand making sure that the tape bonds well.
For more on foam forms for decks, please review the following resources:
Didn't find the answer you were looking for? You can always contact us at support@royalswimmingpools.com or choose the category below to see our most frequently asked questions for that topic: