If a handrail wasn't installed at the time the pool was built, you still have three ways you can add one to your existing pool! See the three options you can choose from below.
Option 1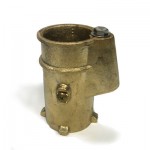 One option is to cut a small section of the deck, between the ladder cup placement and the edge of the pool wall so the cups can be installed and a bonding wire attached to the pool structure. Once this is done, place the handrail anchors cups in the cut section, attach bonding wire (#8 copper wire) to anchor cups then connect to bonding wire that runs around the perimeter of the pool. Then re-pour that section of deck.
Option 2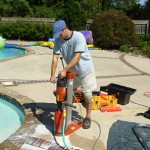 Another option is to rent a "core drill" to drill anchor holes into your deck. With the core drill option, you need to ensure to properly mark the location of your handrail, then start drilling. After the holes are drilled and the core removed, you have several variations prior to installing the handrail.
First, you could put pea gravel in the bottom of the hole to stop the hand rail from going to deep and to assist in holding it in.
Second, you could insert a PVC sleeve in the hole in addition to the pea gravel. If you chose this variation, be sure to choose a piece of PVC barely large enough for the handrail to slide into, you will also have to drill the hole in the deck larger to allow for the PVC sleeve to be inserted.
For the third and final variation, you may pour quickcrete in the bottom of the drilled hole to provide a stop for the hand rail. If you choose to use quickcrete, be sure to only put in enough for a base. If you pour in too much, the hand rail will not fit properly. Also, unless you want your handrail to be a permanent fixture, you must allow the quickcrete to completely set before inserting the handrail into the hole.
Option 3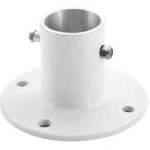 The final option is very simply and is not as intrusive to your deck. If you utilize an "On-Deck Mounted Anchor," you will only need a drill and a masonry drill bit. Like the other options, you will need to ensure to properly mark the location of your handrail, then start drilling the appropriate holes for the anchor bolts. Now you are ready to install the anchors to the deck, then install the handrail in the anchors.
This option can be used with either a concrete or wood deck, but be sure to use the proper drill bit and anchors for your deck type.
*With the first two installation options, be sure to get escutcheons for your handrail to finish the look where the handrail meets the deck.*
Now don't forget to bond your handrail, and you'll all set!
To view our inground pool handrails, click here!
Didn't find the answer you were looking for? You can always contact us at support@royalswimmingpools.com or choose the category below to see our most frequently asked questions for that topic: