We have a general guide attached to help walk you through the basic overview as well as an option for converting a beaded step into a rod & clip installation.
Please use the link here to view guidelines for installing Vinyl Over Steps.
All standard Latham steel steps are now produced with the new bead receiver system.
If for some reason, you wish to use the clips and rods, you may do so without any changes to
the steel step. All that is required is that you:
1. Order clips and rods.
2. Specify clips and rods on the liner order.
There are no dimensional differences and the clips work the same way as before with the
steel steps.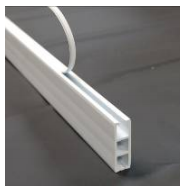 Please note: when you receive the step, the track will not have a visible opening. It is covered to keep the track clean and free of debris during construction.
Prior to hanging the liner, pull out
the cover strip to expose the liner receiver opening.
Simply grab the end, pull up, and remove the filler strip. You are now ready for the liner.
Should any part of the bead receiver be required to replace lost or damaged components,
please use the following part numbers:
1. SSC-1099A-PFT is the part number for the bead receiver, available in 10' pieces.
2. SSC-1099B-PFT is the part number for the "Sure Lock" strip, available in 10' pieces.
3. SSC-1099-PFT is the part number for the assembly of both parts as used on the steel
steps produced.

Didn't find the answer you were looking for? You can always contact us at support@royalswimmingpools.com or choose the category below to see our most frequently asked questions for that topic: