An important step when installing an above ground swimming pool is to set up the base. This is the foundation for your pool, so it important to ensure it's correct and for it to be correct, there's an order of operation to follow: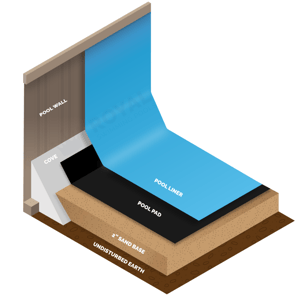 Undisturbed Earth: Once your pool walls are fully assembled, it's time to work on the base. As mentioned your pool walls should be sitting on firm undisturbed earth. This is the first layer of your pool floor.

Cove: From here you'll either peel and stick your foam form cove or you'll build your earth cove around the inside perimeter of your pool (Second layer). Shape and compact the earth firmly to help it keep it's shape once the water pressure begins to push on it.
After the cove is set, recheck your pool dimensions to make sure nothing shifted out of place while pushing up against the walls.

Sand Base: The third layer of your pool floor is the sand base. You'll want to use a fine sand to fill in a 2" thick base wall-to-wall across the bottom of your pool. This will have sand coming up onto your cove as well in order to make the sand base completely level around the pool.

Pool Pad: While this layer of your pool's base is optional, a pool pad/liner pad should be strongly considered for several reasons.
Protects the liner against cuts, punctures, and abrasions due to roots or rocks.
Dramatically reduces installation time spent from smoothing the sand base
Helps eliminate footprints and wrinkles that come from sand shifting around underneath the liner.
Reduces convective heat loss, meaning your pool water will stay warmer.
Liner:
That's it! Your pool cove and sand base are in place and now it's time to use your installation manual to install your liner, the final layer of your pool's floor/base.
Learn more! Here are our most commonly asked questions when buying an Above Ground or Semi-Inground Swimming Pool.
Didn't find the answer you were looking for? You can always contact us at support@royalswimmingpools.com or choose the category below to see our most frequently asked questions for that topic:
Buying a Swimming Pool
Customer Support Inquiries
Technical Support Inquiries