When it comes to operating your automatic pool cover, you have a few choices: a key switch, keyed toggle switch, touch pad, or WiFi touch pad. To learn about each of your options, continue reading below.
Automatic Pool Covers Inc. Key Switch

This key switch uses APC's SmartStop single sensor auto-stop to prevent the pool cover from opening or closing too far. It also has a very user-friendly lighting system. A green light on the unit means the system has power. A flashing green light means the cover is in motion. A red light means the cover has completed the open or close run. Finally, a flashing red light means the system has detected non-optimal performance.
Automatic Pool Covers Inc. Touch Pad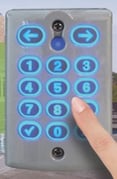 The APC Touch Pad operates similarly to the key switch, but instead of turning a key to open or close the cover, a 4 digit number is set as a security code. To operate this unit, the correct code must be entered, then the check button should be pressed. If the code was correct, the green light will glow and you may press the arrows to open or close the cover. This touchpad also allows the user to alter the torque settings for the cover right from the touchpad.
Coverstar Toggle Switch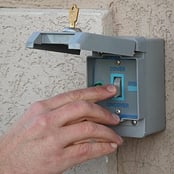 Just flip a switch, and your Coverstar automatic safety cover will create a barrier over your pool that no child or pet can penetrate. This weather-proof toggle switch opens or closes your pool in less than a minute. And it locks for secure access!
Coverstar Touch Pad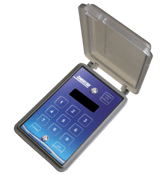 The Coverstar touch pad includes a digital screen display that will allow the you to easily navigate through the menu and options of the touch pad. In addition, up to 4 different operation codes may be programmed, this way different members of the family can have their own unique code to gain access to the pool cover. This touch pad also tracks the number of times the cover has been opened and closed, and can automatically sense how much torque is needed to operate the cover system.
Coverstar WiFi Touch Pad
The Coverstar Wi-Fi touchpad connects to your existing home network. It is easy to set up and will allow you to choose which email or text notifications you wish to receive such as:
When the cover is closed
When a user code is entered
When an unauthorized user attempts to log in
When the cover is left open and more
The Coverstar touchpad allows you to program up to 4 unique user codes, so different members of the family can have their own code. The touchpad can be installed on any new or existing Coverstar automatic cover system.
Didn't find the answer you were looking for? You can always contact us at support@royalswimmingpools.com or choose the category below to see our most frequently asked questions for that topic: