All Royal Swimming Pool Kits include the following materials: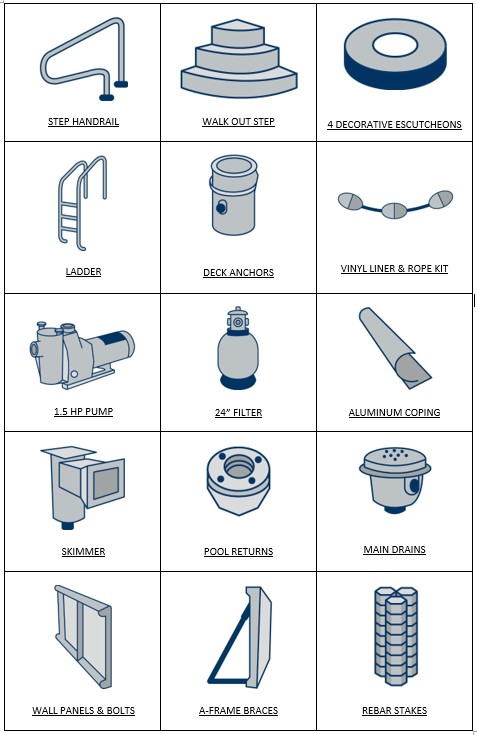 There are many additional swimming pool accessories that you may want to include with your inground swimming pool kit in order to create the perfect pool for your family! The most common options are available to add onto your kit as drop-down menu items when you are customizing your pool kit. However, if you are looking for something particular that is not listed or have any design questions, reach out to us at support@royalswimmingpools.com and we'll be happy to look at customizing your pool kit!
Additionally, many pool owners initially ask us about adding a safety cover, or an automatic cover to their pool kits. These are some of our most commonly ask for add-on items and you can click into each one to learn more about the many options that we have available to you!
The basic swimming pool kit includes everything you need to build and operate your swimming pool! The main items that you will have to supply once you're ready to start building your pool are:
Sand
Concrete
PVC piping
Electrical materials
Water
For additional materials (including our popular PVC Piping Kit) click the link below!
Maintenance Options and PVC Pipe Plumbing Kits
Learn more! Here are our most commonly asked questions when buying an Inground Swimming Pool.
Didn't find the answer you were looking for? You can always contact us at support@royalswimmingpools.com or choose the category below to see our most frequently asked questions for that topic: