Here we have compiled our top tips and recommendations that we've given over the last 25 years to help you make an amazing choice to suit YOUR preferences!!
COLOR
Deep Blue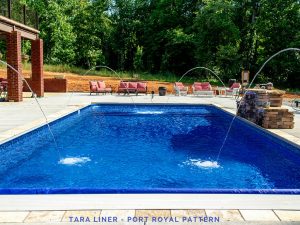 A darker liner is more likely to absorb sunlight, and therefore can help keep your pool water warmer. Darker liners will also make it more difficult to see debris and dirt in your pool. But as liners become darker, they are more inclined to fade over time due to UV damage and Chlorine. You will notice fading quicker, but it may take longer to actually bleach completely since most liners are printed on darker blue vinyl. Deep blue liners seem to hold their color longer, even though you will still see tone changes.
Light Blue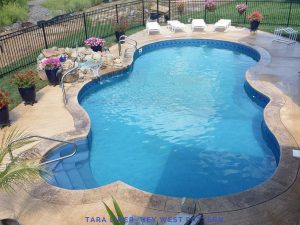 Lighter colored liners are not be as susceptible to fading. They will attract less sunlight and will be less likely to show bleaching and fading as fast over time due to less UV damage. A lighter liner will show more debris and thus, demand to be cleaned on a more regular basis.
Aqua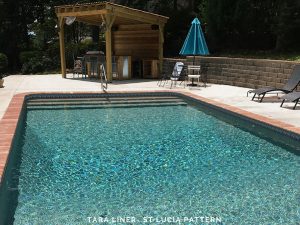 Traditionally when people think pool color, they think blue. Tan colored liners have grown in popularity among those who don't necessarily want a basic blue pool. Sandstone liners will make your pool appear aqua in color, and more of a lagoon look. If choosing an aqua liner, it may be best to pair with gray options such as coping, steps, skimmers, or even a slide for optimum aesthetics.
Vivid Blue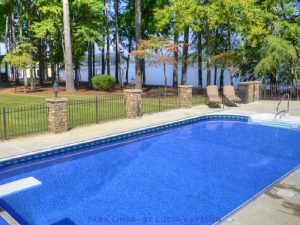 While somewhat darker than Light Blue or Aqua, Vivid Blue liners appear brighter in direct sunlight and give off a vibrant color that can attract attention to your pool. The richer, louder blue color appeals naturally to the eye and goes well with all sorts of landscaping and patio furniture.
PATTERN
The good news is that no matter what color you decide to run with, there will still be a plethora of pattern and tile options available to you! There are patterns that mimic natural stones, gunite, marble, ceramic tiles, and even jewels. Some of our liners by Merlin even have what they call Aqua Luster; patterns with metallic or shimmering inks! No matter what look you are going for, there's a liner to meet that demand! Another way to look at your liner is to coordinate tile pattern (the top row of design or boarder) with its surroundings. If you know what kind of deck will be encasing your pool, you can choose something that complement those features, your patio design, or other natural surrounding elements in your backyard. Some liner patterns come without tile patterns, however, if you find a liner that you absolutely love but are not the biggest fan of the upper boarder, never fear! Tile patterns/borders can be removed from almost any liner upon request.
TEXTURE
Texture can be an invaluable option if you decide to go with vinyl over steps! The vinyl is embossed with a texture that feels good under foot and provides grip and additional traction in higher traffic areas of your pool. While most manufacturers have an additional charge for textured vinyl, it is a much safer option in any pool. Some liners even have an all over pool texture to cover the entire liner and not just the steps. Some textures give the feel of gunite, have recessed "grout lines" on tiled patterns, or create the feeling of compressed sand beneath your feet!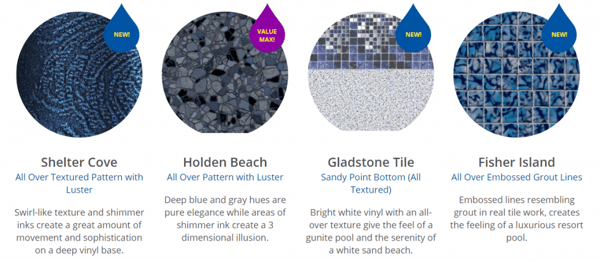 Didn't find the answer you were looking for? You can always contact us at support@royalswimmingpools.com or choose the category below to see our most frequently asked questions for that topic: