The order of your pool's foundation will be: Undisturbed Earth, Cove, Sand Base, Pool Pad (if using one), Liner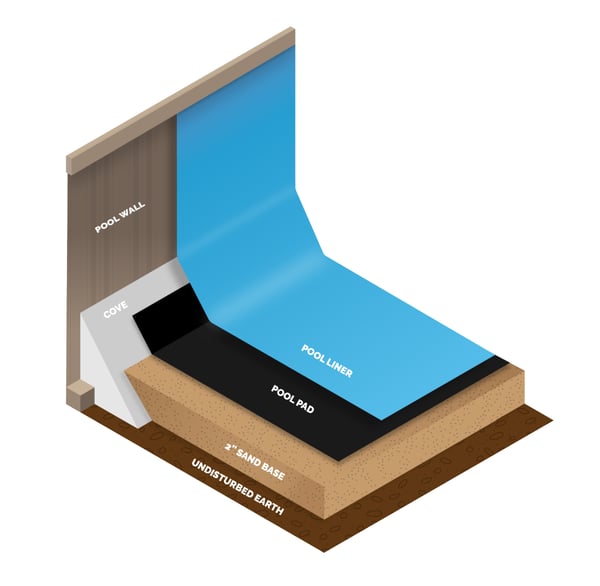 The order of your pool's foundation will be:
Undisturbed Earth
Cove
Sand Base
Pool Pad (if using one)
Liner
UNDISTURBED EARTH
Your pool walls should be sitting on firm undisturbed earth. This is the first layer of your pool floor.
COVE
The cove is material placed against the inside walls of your pool's perimeter that allows your liner to transition from the pool wall onto the pool floor. This keeps water pressure from pushing your liner under the pool wall. It will also protect the liner from any metal edges of the pool framework.
IMPORTANT! THE COVE IS NOT OPTIONAL- IT MUST BE DONE!
You'll have two materials to choose from for your cove. Either neutral alkalinity sifted earth or a foam form that was most likely purchased with your pool.
WARNING! DO NOT USE ANY SUBSTANCE WITH HIGH ALKALINE OR ACID CONTENT, ESPECIALLY PEAT MOSS, AS IT WILL CORRODE METAL PARTS!
WARNING!DO NOT BUILD THE COVE WITH SAND. Sand does not stay in place so your liner could be pushed out from under your pool wall and rupture. This kind of damage will not be covered by the liner or pool warranty.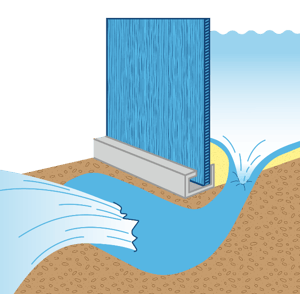 Either peel and stick your foam form cove around the inside perimeter of your pool or build your earth cove. Earth cove guidelines are below.
Earth Cove:
Since earth containing chemicals can cause discoloration or corrosion, it is suggested that you place polyethylene plastic sheeting under the cove around the perimeter of the wall, so no earth comes in contact with the metal. Since the presence of such chemicals is beyond the control of the manufacturer, such damage is not covered by the warranty.
If you use an earth cove, use screened damp earth to form an even and consistent 6"-8" high cove around the inside base of your pool's walls. Shape and compact the earth firmly to help it keep its shape.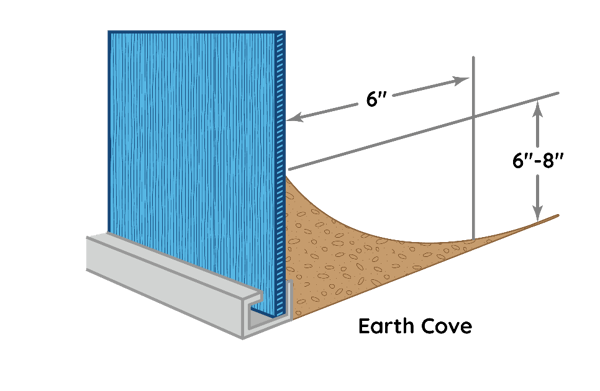 After the cove is set, recheck your pool dimensions to make sure nothing shifted out of place while pushing up against the walls. Make any necessary adjustments and then check the pool floor to make sure it is still level.
If you happen across any depressions, fill those in with sifted earth and tamp firm.
SAND BASE
Use a fine sand to fill in a 2" thick base wall-to-wall across the bottom of your pool. This will have sand coming up onto your cove as well in order to make the sand base completely level around the pool. The sand acts as a protective layer for your liner.
After the cove and the sand base are in place, rake and tamp the entire pool area. If not using a pool/liner pad, smooth your sand as much as possible as this will be the final layer before your liner and imperfections in the sand base can sometimes cause the liner to show divots, wrinkles, and other imperfections.

PRO TIP: Make sure that no sand is allowed to remain on the pool wall above the cove. This could cause pinholes in your liner.
POOL/LINER PAD (OPTIONAL)
If using a pool pad, gently lay it across the bottom of your pool, on top of the sand. Make sure that it is centered in your pool.

PRO TIP: These optional pads prevent cuts, punctures, and abrasions in your liner. A pad will also dramatically reduce installation time spent smoothing sand. The pool pad also helps eliminate both footprints and wrinkles that can come from sand shifting around underneath the liner even after fully installed.
Or view our guide on the 17 steps to installing your Round Above Ground Pool here.
Didn't find the answer you were looking for? You can always contact us at support@royalswimmingpools.com or choose the category below to see our most frequently asked questions for that topic: