After all top ledge rails have been installed, tighten all screws and attach the top cover connectors. Depending on your pool model, you may have 1- or 2-piece top cover connectors. See examples below.
If you have a 2-piece top cover connector, the style can vary based on model.
1-PIECE RESIN CLIP-ON COVER This installation requires no hardware. Simply hook the back end of the top cover into place, and use your fingers or a screwdriver to gently flex the front tabs enough to hook the cover in place. Make sure that the top cover is centered over the upright when installing.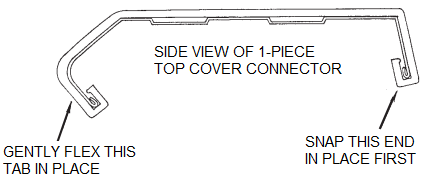 ---
2-PIECE RESIN TOP COVER Center small half over the hole in the top plate as shown and attach with a #12 screw. Slide the large half over the small half and secure using two #10 screws.*
---
2-PIECE RESIN TOP COVER Attach top part on the top rail using the hooks. Use #12 screws to assemble the bottom part with the top part. Secure the assembly using two #10 screws. *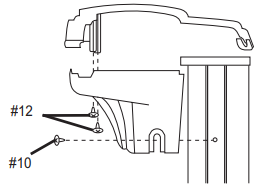 ---
FOR 2-PIECE RESIN WITH ANGLE SUPPORT ATTACHMENTS ON THE SIDES OR THE FRONT*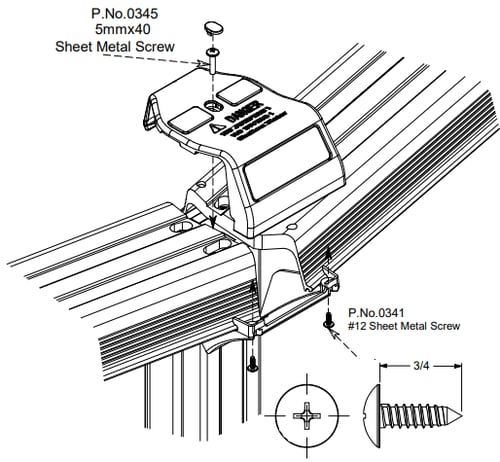 Hook large half of cover under the inside lip of top rail. Swivel cover down flat, centered over the upright.
Take angle support (small half) and position underneath the top half, securing angle support to upright with 1 or 2 screws on the sides (leave loose for adjustment; number of screws depends on model so use 2 if there are two holes).
Then, take a screw and connect angle support to the top cover connector. A small space will occur- this is designed to take up expansion & contraction in manufacturing tolerances in the top rails.
*Screw types and sizes will vary based on pool type.
If you have not done so already, finish filling your pool and assembly your entryway. It's time to swim!
Or view our guide on the 17 steps to installing your Round Above Ground Pool here.
Didn't find the answer you were looking for? You can always contact us at support@royalswimmingpools.com or choose the category below to see our most frequently asked questions for that topic: